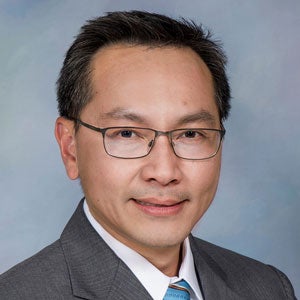 Dear Students, Alumni and Friends,
I welcome you to our new Department web site. For all the unexpected and traumatic events and changes to our world last year, I highlight the wonderful things that did emerge from our Department.
Our ChBE faculty are doing exciting and groundbreaking research in the areas of materials & nanotechnology; biomolecular engineering; and energy & sustainability. Numerous new projects were announced in 2020, supported by funding from the Welch Foundation (Walter Chapman, Haotian Wang, Rafael Verduzco); American Chemical Society (Michael Wong, H. Wang), NSF (Sherry Gao, H. Wang); NIH (S. Gao, Kyriacos Zygourakis), Army Research Laboratory (M. Wong), among others. Haotian Wang was selected as a Packard Foundation Fellow, the first engineer from Rice to receive this very prestigious honor. I am the first holder of the Tina and Sunit Patel Professorship in Molecular Nanotechnology. Lisa Biswal was named the William McCardell Chair in Chemical Engineering. Matteo Pasquali was honored with Rice Presidential Award for Mentoring.
We are so pleased that Rafael Verduzco received promotion to full professorship last summer. Joining our faculty last summer are Gerald McGlamery, Jr., Ph.D., as Professor in the Practice and Marya Cokar, Ph.D., as Assistant Teaching Professor. Our students and faculty have gained so much already from Gerry's extensive experience in the energy and petrochemicals sectors, and from Marya's outstanding teaching and pedagogical innovations. Last but not least is Dr. Ross Thyer, Ph.D., who we welcomed into our Department as Assistant Professor. Ross's mastery of a formidable arsenal of synthetic biology tools holds great promise for sustainable chemicals production, environmental protection, and human health.
Our UG and PhD programs are ranked in the top 25 programs in the US, according to U.S. News & World Report. And, the Department is among the Top 10 for journal articles and citations per faculty, according to Academic Analytics.
At the 108th Commencement Ceremony this past May, 33 BS/BA, 9 MCHE/MS, and 13 PhD degree holders received their hard-earned degrees virtually. Female graduates made up ~45% of our bachelor degrees and ~27% of our advanced degree holders.
We are so proud of our alumni and their achievements. Gilda Barabino (PhD '86, NAE, NAM) was named President of Olin College. Camilah Powell (PhD '20) received a Fulbright Postdoctoral Fellowship. Aditya Kaddu (BS '12) was named to Forbes 30 under 30. We would love to hear more from our alumni – please do not hesitate to share with me or with our very active ChBE Alumni Advisory Board.
I share these highlights as we head into 2021 with hope and optimism. The home building for ChBE (>70-year-old Abercrombie Labs) is set to close in summer 2021. The new engineering and science building will be ready in ~3 years. I am working with the new Dean of Engineering, Luay Nakhleh, and the new Dean of Natural Sciences, Tom Killian, on supporting their plans for the new building and their vision for research and education.
The global and local events of last year have catalyzed our efforts to teach in new ways physically and virtually; to provide impactful education in a new learning environment; to support our Black students and students of other underrepresented people of color; to support our international students who have traveled so far; and to reimagine what it means to be a chemical engineer.
Thank you for your support and interest in ChBE at Rice.

Michael S. Wong
Department Chair