The Rice Department of Chemical and Biomolecular Engineering is excited to have hosted the annual Chevron Lecture on Energy — in person and virtually — on March 31, 2022. Thank you to our lecturer Matteo Pasquali and to all our guests. We invite you to watch the lecture below:
About the 2022 Chevron Lecture
This year's Chevron lecturer Matteo Pasquali, the A.J. Hartsook Professor, Chemical and Biomolecular Engineering, will present "We can use carbon to decarbonize — and get hydrogen for free."
Thursday, March 31, 2022
Time: 5:30-8:00 PM CT
Duncan Hall: McMurtry Auditorium and Martel Hall
or virtually
We are excited to host this event in person again at Duncan Hall. The lecture will be presented in a hybrid format in that we will also be providing an online option to view the lecture if you cannot make it to Rice in person (all registrants will receive a link to watch the lecture remotely). The networking portions of the event will be in-person only.
General Event Agenda
All times are in CT:
5:30 PM: Networking
6:00 PM: Lecture by Matteo Pasquali on the Carbon Hub (hybrid option available)
7:00 PM: Reception with food and drinks
Abstract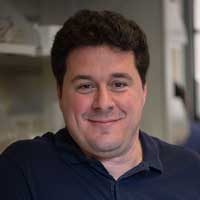 "We can use carbon to decarbonize — and get hydrogen for free."
Constraints on CO2 emissions are confronting society with multiple massive challenges: creating new sources of clean energy beyond solar and wind; electrifying our transportation systems and using lighterweight materials; decarbonizing the industrial sector; and dealing with the economic fallout associated with shrinking the fossil hydrocarbon industry, which accounts for about 7% of the world economy. At first blush, the solutions to these dilemmas appear to be at odds with one another. In this lecture, I will show that there may be a way forward that positively influences all of these aims: Our vision is a zero-emission future, where large-scale technology is deployed to split hydrocarbons and co-produce clean hydrogen and carbon materials that house, move, clothe, and feed people. To foster this vision, we have established the Carbon Hub as a non-competitive partnership of industry, academia, government, and non-profit organizations.
About the Sponsor
This event, sponsored by Chevron and the ChBE Department, is being planned by the Rice AIChE Student Chapter, the Rice SPE Student Chapter, the ChBE Graduate Student Association, the ChBE Alumni Committee, and the department staff. If you have any questions or need to cancel your registration, please contact ricechbealumsecretary@gmail.com.
We look forward to seeing you there!
Past Chevron Lectures

2021 - Corporate-academia partnership for driving innovation in Energy
Akshay Sahni
General Manager, Strategy and Technology for Chevron Technology Ventures

2020 - Outlook for Energy: A Perspective to 2040
T.J. Wojnar
Exxon Mobil Corporation

2019 - Houston: Challenges and Opportunities
Ed Emmett, Ph.D.
Professor in the Practice
Rice University

2018 - The View 2018
Janeen Judah, JD
Chevron Corporation

2017 - Enhancing Carbon Dioxide Enhanced Oil Recovery
George Hirasaki, PhD
A.J. Hartsook Professor Emeritus and Research Professor
Rice University

2016 - The Uncertain Energy Future
Kenneth B. Medlock III
James A. Baker III, and Susan G. Baker Fellow in Energy and Resource Economics, James A. Baker III Institute

2015 - America's Prosperity Through America's Energy: Our Sustainable 21st Century Opportunity
John Hofmeister
Founder and Chief Executive of Citizens for Affordable Energy
Former President Shell Oil Company

2014 - The Role of Oil and Gas in the Global Energy Picture
Carlos Aguilera
Vice President and General Manager, Business Development
Chevron Africa and Latin America Exploration and Production Company

2013 - Transforming Energy in the Twenty-First Century
Franklin M. Orr Jr.
Director, Precourt Institute for Energy
Stanford University