Aditya D. Mohite, associate professor of chemical and biomolecular engineering, and of materials science and nanoengineering at Rice University, has been honored by the U.S. Department of Energy for his research into hydrogen fuel cells.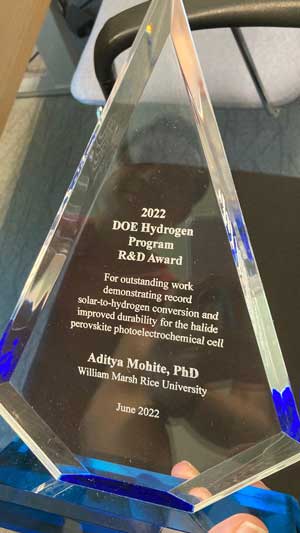 He received a 2022 DoE Hydrogen Program Research and Development Award in the Hydrogen Technologies — Production category at the Annual Merit Review and Peer Evaluation Meeting on June 6. Mohite was recognized for "achievements demonstrating record solar-to-hydrogen conversion and improved durability of a halide perovskite photoelectrochemical cell."
Mohite earned his Ph.D. in electrical engineering from the University of Louisville in 2007 and worked as a staff scientist at the Los Alamos National Laboratory. He joined the Rice faculty in 2018 as one of the first faculty members of the Molecular Nanotechnology Initiative. He is recognized as one of the most highly cited researchers in the world.
His research focuses on understanding and tailoring structure-function relationships in materials by using novel, correlated, in-situ techniques developed and pioneered by his group. The goal is engineering high-efficiency devices for clean energy applications, such as photovoltaics, photo-catalysis light emission and detectors.